Female surfer Caroline Marks, a surfer from the east coast, has now solidified her place among the top 28 females on the World Surf League's women's world tour for the 2018 season which starts March 14th on the Gold Coast of Australia. As the only rookie for the 2018 season, and seeing as she's only 15, she's got her work cut out for her competing against surfers like Carissa Moore, Stephanie Gilmore, and Tyler Wright. She stacked her points this season in Oceanside, CA (3rd – 3550pts), Spain (2nd – 4500pts), and Baja, Mexico (5th – 2650). She finished the season ranked 7th behind 6 of the current women's CT competitors who compete on the QS to keep their spot on the CT. A truely impressive feat for such a young surfer.
I had an opportunity to be in the water with Caroline Marks, her brothers, and sponsors back in Spring of 2015. Even back then at the young age of 13 everyone seemed to know she was a force to be reckoned with, and her performance behind the lens seemed to be very closely guarded. I was able to snag some clips of her brothers Luke and Jack. See below:
Older brother Luke:
A clean shack at the inlet:

Younger brother Jack:
He's been learning the backhand snap from a pro: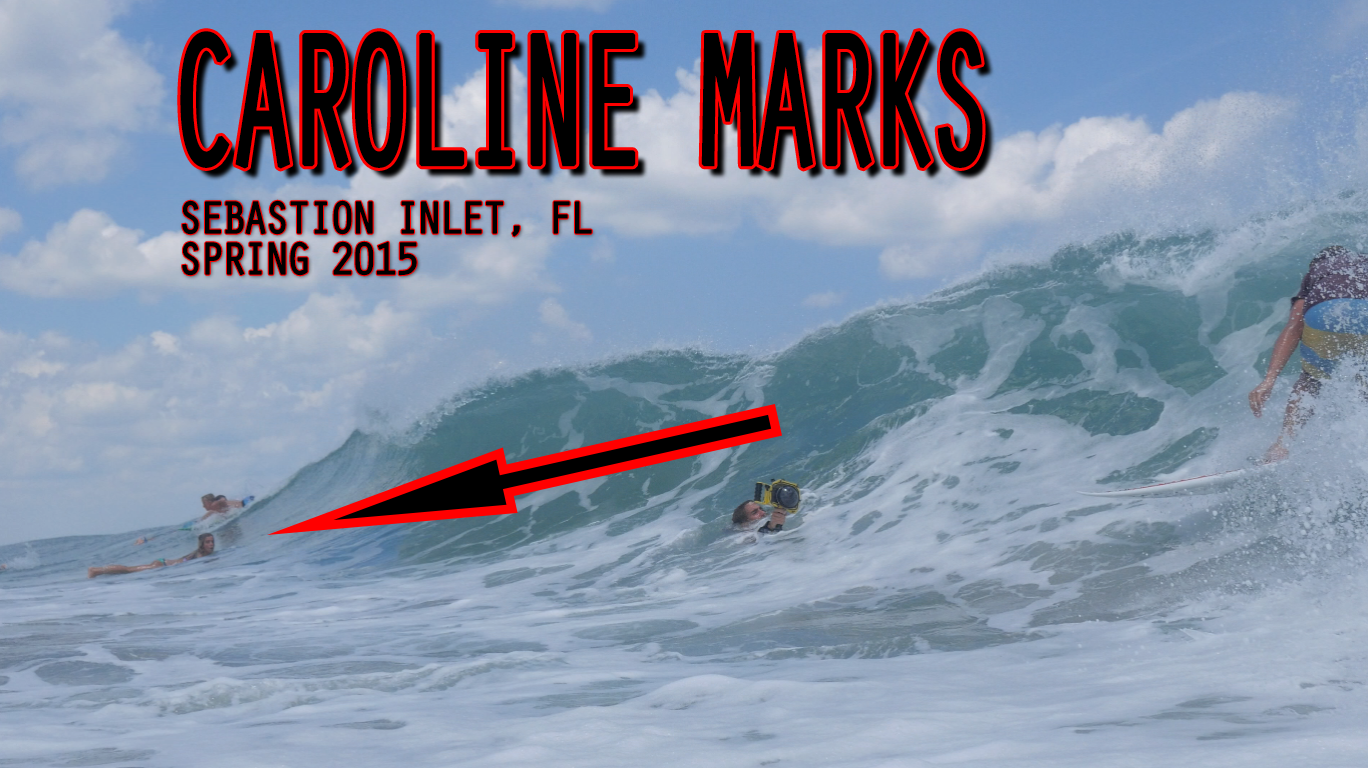 While I was at the Inlet, over from the gulf, I was in the water with the crew down there at the inlet on a gnarly, wonky low tide. I guess that's the secret to finding the professionals, go when no one's around. I was there with my brother, and I remember really distinctly, just before leaving the inlet I was standing on the beach looking back at the ocean. I saw her powerful backhand snap under the lip in the most critical section of the closeout bowl. It blew me away. I instantly said to my brother, "whoa, did you see that?!" Shocked and amazed, it was pretty clear that this girl was on another level in the women's sphere. Looking back and realizing she was only 13 at the time makes it even more shocking. I commented on her social media account how impressed I was, and that I though she should be on the world tour at the time. She appeared to be on par with those women, though not realizing she was only 13, and may not have been ready for a full time job and celebrity status.
Her brothers, her coach, and her parents will all be watching over the young phenom while she travels the world in search of a world title, which she will undoubtedly have in the coming years with her confidence, lethal backhand, and all around surreal surfing ability. We've now got a Floridian on the women's world tour, but the men's tour might soon be in need of some Florida talent, so keep shredding grommets.